Welcome to Caerphilly Garden Centre
We are a family run garden centre a short drive from Caerphilly town.

We are proud of our lovely centre and we are sure you'll like it too. Come and explore our vast plant area, our unique gift section which contains Yankee candles and Bomb cosmetics. we also have a great range of barbecues and garden furniture.
So come and see us soon, you can even pop in to our restaurant "The Palms" for some lunch.
PLANT OF THE WEEK: RHODODENDRON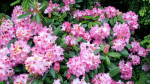 The shadiest corner of your garden becomes the highlight of your spring display when you plant a rhododendron – probably the most brilliantly-coloured of all the early-flowering shrubs with masses of sumptuous blooms in every hue from deepest scarlet to magenta pink.
All varieties of rhododendron like a moist, acidic soil and dappled shade, where they'll make a sizeable and very showy shrub in time. If space is limited, or you garden on neutral or chalky soil, don't worry: you can still enjoy rhodies. Just choose a compact variety bred to thrive in containers filled with ericaceous (acidic) compost for an equally spectacular display each spring.