Welcome to Caerphilly Garden Centre
We are a family run garden centre a short drive from Caerphilly town.

We are proud of our lovely centre and we are sure you'll like it too. Come and explore our vast plant area, our unique gift section which contains Yankee candles and Bomb cosmetics. we also have a great range of barbecues and garden furniture.
So come and see us soon, you can even pop in to our restaurant "The Palms" for some lunch.
Plant of the Week: Roses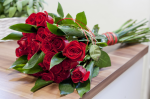 'A rose by any other name would smell as sweet', said the Bard, and whatever name they go by roses undeniably take the prize for the most delicious scent in the garden. Perfume adds yet another dimension to a flower already blessed with perfect petals in a kaleidoscope of romantic colours.
Since it's prime rose-planting time right now you've got the perfect excuse to add to your collection. From palest pink climber 'Madame Alfred Carriere' to swoon-inducing Bourbon rose 'Madame Isaac Pereire', there are dozens of roses which major on scent – so fill your garden with sweet, spicy perfume this summer!