Welcome to Caerphilly Garden Centre
We are a family run garden centre a short drive from Caerphilly town.

We are proud of our lovely centre and we are sure you'll like it too. Come and explore our vast plant area, our unique gift section which contains Yankee candles and Bomb cosmetics. we also have a great range of barbecues and garden furniture.
So come and see us soon, you can even pop in to our restaurant "The Palms" for some lunch.
PLANT OF THE WEEK: SNOWDROPS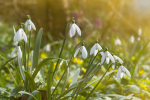 The sight of brave little snowdrops pushing their way through the frostiest ground gives every gardener new hope. Once the first porcelain petals have opened you know winter aconites and crocuses aren't far behind: before you know it every inch of soil is bursting with dainty colour and the gardening year has begun.
Give snowdrops dappled shade in soil enriched with compost or even better, leafmould – autumn leaves rotted down for a year or two to mimic the woodland floor snowdrops love. Snowdrops make beautiful partners for winter shrubs like dogwoods and witch hazels, and other spring flowers including hellebores, winter-flowering aconites and Cyclamen coum.